The Frédéric Joliot / Otto Hahn Summer School
on Nuclear Reactors "Physics, Fuels and Systems"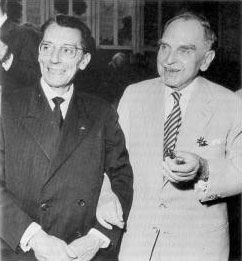 Frédéric Joliot and Otto Hahn
Aix-en-Provence, France
August 26 – September 4, 2020
ATTENTION:
Owing to the coronavirus crisis and after considering various
alternatives, it was decided to postpone this year's course to the
Summer 2021.

We are sorry for any inconvenience or disappointment
this may cause.
The FJOH School organizers.
High fidelity Modelling and Simulation of Nuclear Reactors:
Turning a Promise into Reality
Jointly organized by
the Nuclear Energy Division of the Commissariat à l'Energie Atomique (CEA/DEN), France,
and the Karlsruhe Institute of Technology (KIT/INR), Germany